Small data center
Small data centers, despite the name, may require a high power density in the case the so-called "blade" servers are used. A solution based on Coolblade "in-row" cooling units allows to efficiently remove large amounts of heat. A non-negligible advantage of such a solution is the possibility to avoid the distribution of air through the raised floor, thus saving on the initial costs of installation.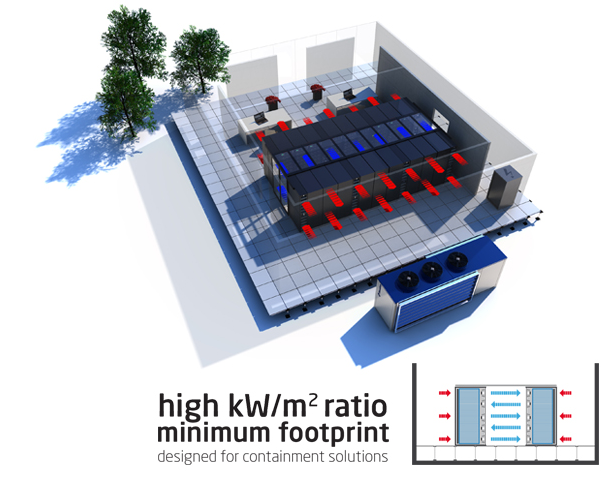 A demonstrative picture of how it works
Medium data center
The medium-sized data center , specifically designed to shelter inside IT equipment and provide a safe and secure environment , able to operate continuously 365 days a year , finds in the combination of indoor chilled water Datatech units plus Tetris FC NG chiller the most energy- efficient and unique solution in the market.
The pair of indoor units with airflow under the raised floor, with a typical layout of rows of racks in hot aisle / cold aisle arrangement, with water-cooled chillers and dry coolers can achieve maximum energy performance and the optimization of plant operation during the whole year.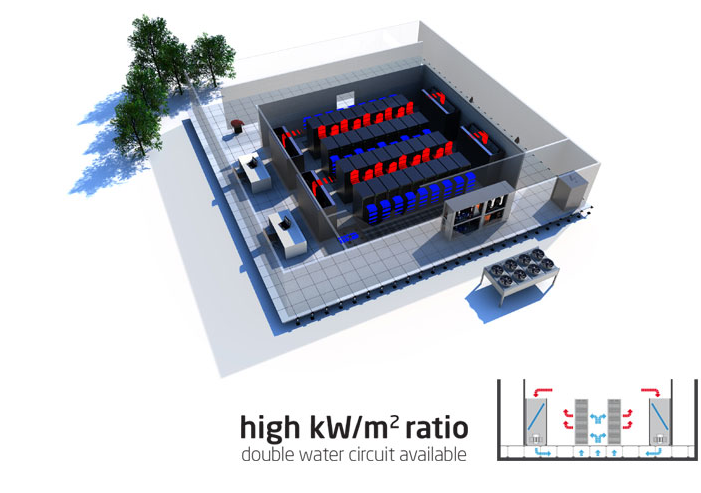 How it works
Large data center
The large, modern data centers, typically large "Colocation Providers" or large institutions require dedicated cooling, are high efficiency and high capacity cooling units. The Datatech units with separate fan section, installed below the raised floor, reach the top of the performance in terms of efficiency and cooling capacity per footprint.
The coupling to the large Kappa Rev chillers can reach the cooling power needed to remove large amounts of heat that originate within the data center.