ENVIRONMENTALLY FRIENDLY ELECTROSTATIC AIR FILTERS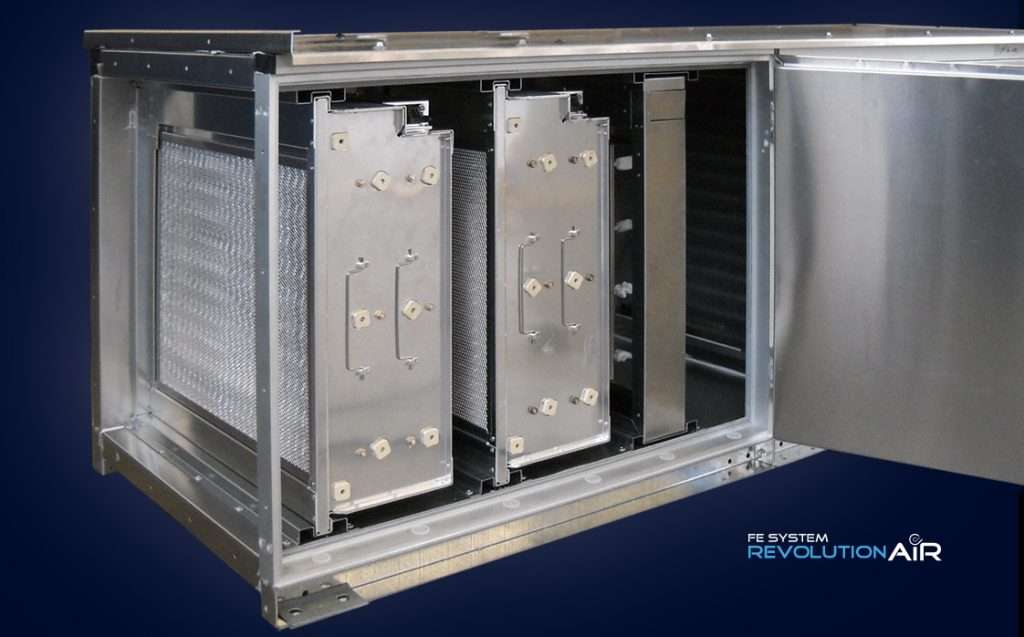 With the constant increase in atmospheric pollution, especially in the most industrialised countries, the demand for air filtration is growing sharply. In the context of sustainable development, the need to minimise the power consumption of plants has become of fundamental importance and is being widely researched. The new range of active electrostatic filters with integrated electronics, the FE SYSTEM series, has been designed and developed for this reason. Electrostatic filter FE SYSTEM is an alternative to traditional pocket filter and was designed to simplify the use of electrostatic filters in AHUs and Rooftops. Its use in ventilation systems, particularly in the air-conditioning sector, does not require changes in the construction and dimensional characteristics of the plant.
With about 80%, the energy consumption for ventilation constitutes the largest part of the total environmental impact with conventional bag filters. The remaining 20% ​​refers to initial installation and waste management. With environmentally friendly electrostatic air filters, energy consumption is significantly reduced while reducing the need for service.
Waste management disappears completely – instead of transporting hazardous filter waste for recycling, we wash clean electrostatic precipitators for continued use. In other words, we increase air quality while protecting the environment – and with the energy savings that the installation entails, the investment pays off from day one. 
Advantages with ours active electrostatic filters:
 Certified filtration efficiency, high and constant over time
 High and constant hygienic and antibacterial effect
 Very low and constant pressure drops over time
 Reduction of management costs (filter that can be regenerated by washing with water and detergent)
 No replacement required
 Energy consumption reduction up to 30% per year
 Long life cycle (equal to the machine itself)
 Replacement of standard filtration systems simplified thanks to EN 15805 / ASHRAE standard dimensions
 Easy installation thanks to built-in electronics and multipolar connection
 Made of 100% aluminum (recyclable material)
 Sustainable filtration
 Respect for the environment due to the total reduction of plastic and other materials that are difficult to dispose of
 Preservation of the planet for future generations
| | | |
| --- | --- | --- |
| A+ | Energy Class | C |
| 702 | Consumption | 2400 |
| ePM1 70% | Filtration Class | ePM1 70% |
| 64 | Initial Pressure Drop | 130 |
| 64 | Final Pressure Drop | 300 |
| 0 | Annual Replacement | 3 |
Higher electricity price further improves the calculation - replace bag filters with electrostatic active air filters to reduce your electricity costs
A lasting high electricity price improves the cost calculation for electrostatic filters and reduces the depreciation period by several years, according to several assessors. Along with an increased interest in climate, it is a golden opportunity to convert to electrostatic filters. In addition, the indoor environment is significantly improved. Electricity prices have skyrocketed over the past time. Where it will go in the short term is difficult to predict, but there is a lot to suggest for continued high prices in the future. In summary, it is a perfect location to invest in electrostatic precipitators because it provides a better indoor climate while protecting the environment and your wallet.

Fill in your own values in the tool to see how much money you save on replacing conventional bag filters for ventilation with electrostatic active air filters. If you test our energy calculation, you will receive an answer immediately.