This is how ERV ventilation works
Distinguish between ventilation and air. It is ventilation that determines how your home is oxygenated and experienced to stay in.
Indoor climate and health
Research reveals a clear link between indoor climate quality and human health. A large number of homes are failing to meet national air change requirements. In eight out of ten apartments in tower blocks, the air change rate is too low, and 40 per cent of all children are affected by asthma or allergies. Good ventilation halves this risk to child health.
Poor indoor climate is typically caused by hazardous substances emitted by construction materials (e.g. radon), and by moulds and air pollutants. High humidity in buildings and in indoor air can also be a factor. This means that the air in residential properties needs to be replaced continually.
Energy consumption and the environment
Assessing residential ventilation systems and their control is the first step towards reducing energy bills and running costs. A reduction in the energy requirement for achieving the desired indoor climate also means that your carbon footprint will be reduced. A great place to start is by recovering the heat from the spent ventilation air.
One way of achieving this without compromising on either indoor climate or air quality, is to demand-control the climate in each apartment. The result is a comfortable indoor climate with minimum energy consumption and maximum energy recovery, which also meets all the requirements for supply and extract air flows.
Better health, lower cost
Ventilation keeps the oxygen level in the home at a good level and which removes harmful fumes and odors. The supply air is filtered through high-quality filters, which creates a healthy and comfortable indoor environment.
ERV ventilation does not waste energy, but reuses it for free heating or passive cooling, which results in lower energy costs. It guarantees excellent energy efficiency and a healthy indoor climate in all conditions.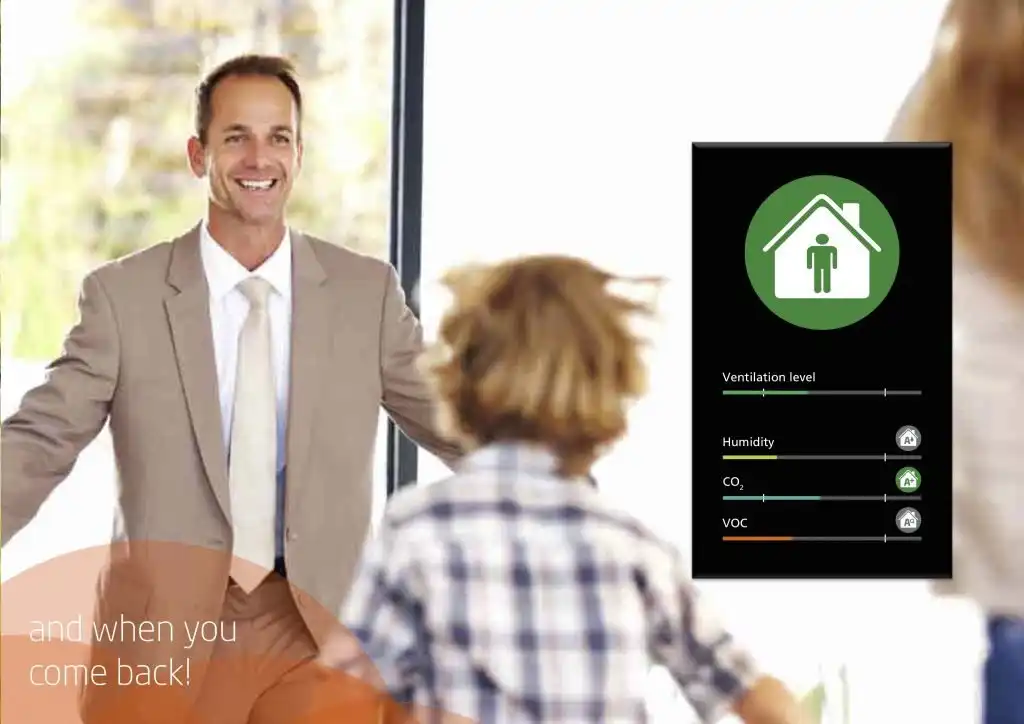 The exhaust air is led out of the home through the exhaust diffuser via ventilation ducts to the ventilation unit. The exhaust air is taken from the parts of the home that have the highest proportion of harmful particles for air quality, such as toilets, kitchens, bathrooms and storage. The exhaust air is led in the unit to the built-in heat exchanger which recovers the heat energy.
Then it passes the exhaust fan and is blown out of the home as exhaust air. At the same time, fresh outdoor air is sucked into the unit. It passes through filters that remove harmful particles.
The heated or cooled air, which is now called supply air, is then distributed in the home via supply air ducts and devices. The most energy-efficient CASA unit draws about 80 W per hour at an air flow of 65 l / s. It's just a little more than an old-fashioned light bulb.
For apartments and houses there are many options in the way of units, depending on the installation location. For many homes, the choice falls on a horizontal unit for installation in the attic, under ceiling or vertically in a laundry room or storage room. In small houses / apartments, a "spice rack unit" in the kitchen is also a good solution.
The cooker hood is a key component of the ventilation system
Installation and investment costs can be reduced if the ventilation unit's extract air fan is also used for the cooker hood's air flow. The system can be controlled from the cooker hood, and senses when the cooker hood has been activated when it then compensates with a supply air flow to maintain balance in the home. This is yet another key feature of current airtight housing. The opposite feature is triggered when using the centralised dust extractor or when the fireplace is lit
Contact us if you have any questions or want to know how we can help you.