ERV OFFICE VENTILATION - Chilled Beams or VRV Ventilation
WE BRING ENERGY EFFICIENT EUROPEAN VENTILATION TO THAILAND
The Benefits of our Office Ventilation Solution
Fresh and clean airflow is fundamental to each and everyone of our ERV ventilation solutions. We're able to filter the supplied air up to 99.6% in an energy efficient way; ensuring healthy air with low maintenance cost.
Our active chilled beams office ventilation solution acts as complete air conditioners and the AHU recovers up to 86% off the energy used to cool down the office.
The entire solution is tailor made for the specific office in question, this ensuring optimal indoor air quality. This has a direct influence on employees productivity and the buildings health; making the business more profitable and renovations less frequent.
With our airborne solution, it's an easy and intuitive experience to control the system to one's own desires, and with our waterborne solution, complete air conditioning is provided.
We offer free service during the first year as well as 2-5 years product guarantee.
Optimal Office Ventilation Solutions
The aim of a system designed for offices is to create the optimal indoor air quality and climate with lowest possible energy usage and highest possible energy recovery. When this is created, you as a client will feel confident in regards to both the financial investment and the operating system as such.
For this, we have two main solutions.
ERV with Active Chilled Beams for Office - Waterborne solution
The fresh and air conditioned air is supplied through a 4-way air discharged active chilled beam, ensuring fresh and air conditioned air for everyone present in the room. The active chilled beams ventilation solution acts as a replacement to air conditioner for offices.
It's possible to completely automize this system with our demand control solution. It also has VAV (variable air volume) and CAV (constant air volume as options. Demand control is a larger investment, but it's the most energy efficient and comfortable solution.
The ERV is the heart of the system. Our ERVs are made up out of the highest quality products such as EC motors and highly efficient rotary heat exchanger. Both of these products, and the whole solution, makes sure that you use the least amount of energy to get the exact indoor air climate you need for a healthy, productive and comfortable office environment.
Advantages:
Ventilation, cooling and heating in one system
Individual climate regulation
Smaller duct dimensions
High cooling and heating capacities
Maximum thermal comfort
Low LCC
Highly energy efficient
ERV Ventilation for Offices - Airborne Solution
The airborne solution is a tailor made energy recovery ventilation solution composed of the highest quality products. Just like with the 'Waterborne solution', there is the option of automized demand control, VAV and CAV.
With the use of Swegon's sorption treated heat exchanger, the Gold ERV de-humidifies the supplied air up to 50% and recovers the energy used for cooling up to 86%. This, in combination with carefully chosen products, makes the entire ventilation system the most energy smart and sustainable solution on the market.
The system is perfectly compatible with a VRF system, and when a cooling coil is used it doesn't only dehumidify the supplied air, but also keeps the compressor switched on; reducing the energy costs even more.
Advantages:
Best air quality (especially with the use of our electrostatic filters)
Requires less space
Demand/automated control
Highly energy efficient
Low LCC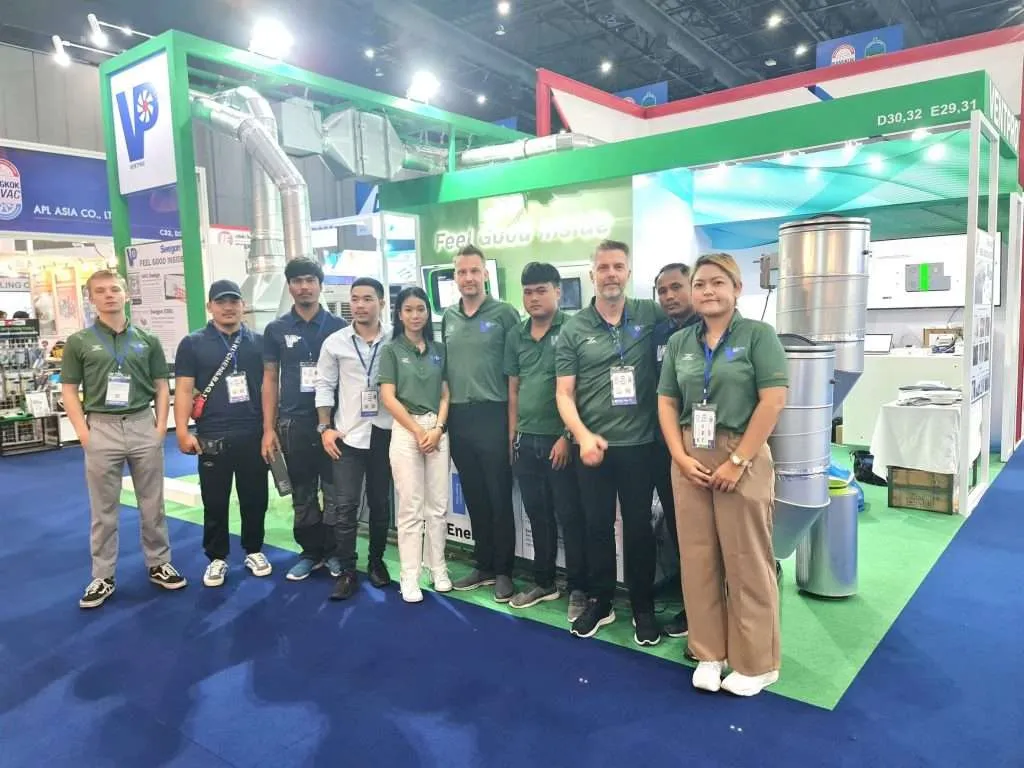 Our team at Ventpro have been a part of thousands office ventilation projects the past 50 years. We have in this time gathered the experience and knowledge needed to create sufficient ventilation and airflow solutions in all types of houses and environments.
Thanks to our experience in Sweden we secured the highest quality partners and can because of this offer and create the highest quality solutions. Our main partner, Swegon, is the leading ventilation solution provider in Scandinavia and are active all over the world (E.g: North America and India).
Why Ventilate the Office?
As modern buildings are built in an airtight way, mechanical ventilation plays a vital role in today's day and age. Why? We simply need a certain amount of fresh and clean air to be healthy and productive.
In terms of offices it also plays the vital role of helping the employees to be at their maximum productivity. There are multiple studies showing this, here is one done by Harvard University in the USA.
A effective and qualitative ventilation system has also shown to reduce the spreading of airborne viruses such as Covid 19; leading the employees to fall sick less often. Learn more here.
A Ventpro customer also gets the privilege of having world-class energy and humidity recovery as Swegon's AHUs recovers up to 86% of the energy used for cooling, and up to 50% of the humidity. All of our products and the entire solution is also made in an energy efficient way, ensuring you the maximum result out of every penny.
Our main partner 'Swegon' has created countless of office ventilation solutions with the systems displayed above.