Description
Ceramic energy regenerator
The high-tech ceramic regenerator with heat recovery efficiency up to 93 % is used for heating of supply air by means of the exhaust air heat recovery. Due to its honeycomb structure, the unique heat exchanger has larger air contact area and excellent

heat conducting and accumulating properties. The ceramic regenerator has a special anti-bacterial treatment to prevent bacteria generation inside it. The antibacterial treatment is rated for 10 year operation.
One of the best heat recovery efficiency on the market due to innovative hexagonal structure of the heat exchanger cells
Reversible DC motor
Air is supplied or exhausted by a reversible axial fan with DC motor. Due to DC technology the fan has outstanding low energy demand. The fan is powered by safe voltage 12 V. The motor has integrated overheating protection and ball bearings for long service life.
Air filters
The two integrated air filters with total filtration rate MERV 5 (G3) provide supply and exhaust air filtration. The filters prevent ingress of dust and insects into the supply air and contamination of the ventilator parts. The filters also have antibacterial treatment. The filter cleaning is done with a vacuum cleaner or water flushing. The antibacterial properties is not removed. MERV 14 (F8) filter with the filtration class PM2.5 99 % is available as a specially ordered accessory.*
* Reduces the air flow down to 24 CFM (40 m3/h) when installed.
TwinFresh ventilator functioning
The ventilator is designed both for reversible mode with energy regeneration and supply or exhaust mode with no regeneration.
CYCLE I. Warm stale air is exhausted from the premise, flows through the ceramic regenerator and transfers up to 93 % of the accumulated heat and moisture to it. As the ceramic regenerator gets warmed up, the ventilator switches to the supply mode.
CYCLE II. Clean cold intake air flows through the regenerator and absorbs accumulated heat and humidity. In 70 seconds, after cooling of the ceramic regenerator, the ventilator is switched to the exhaust air mode and a new cycle starts.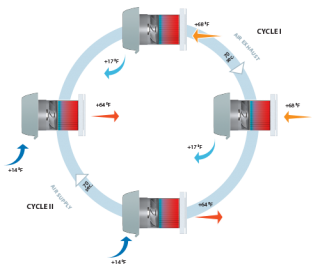 Control
The ventilator is controlled means of:
Connection of several ventilators via Wi-Fi for synchronous operation. Ventilation control via cloud service worldwide.
Connection to Smart Home or BMS via Wi-Fi.
DUO Units could not be installed for thin walls.
Mounting
The ventilator is designed for through-the-wall installation inside a prepared hole in an outer wall of the building.
The best ventilation solution is pairwise installation of reverse phase connected ventilators when some units ensure supply of fresh air to the room and the other units exhaust air from the premise. This way the most efficient balanced ventilation is arranged.
In case of brand new construction, the ventilators are mounted in two stages:
1. Pre-installation at the stage of the indoor finishing and outer decorative wall finishing. It includes installation of an air duct, an outer ventilation hood and cable installation.
2. Final mounting before commissioning of a house. It includes installation of a regenerator with a fan and filters and mounting and wiring of an indoor unit with a controller and shutters.